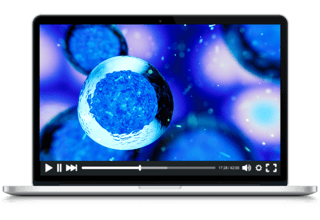 About the Webinar
Single-cell RNA sequencing (scRNA-Seq) enabled by 10x Genomics technology allows for deep analysis of the transcriptome of individual cells, uncovering differences in heterogeneous cell populations that are often masked by traditional bulk methods. With high-throughput, single-cell characterization technology, clinical researchers can gain crucial insights into mechanisms of disease to enable and accelerate target discovery.
However, retrieving high-quality, viable samples can be a challenge for downstream processing and generation of meaningful transcriptomic data. In this webinar, learn how clinical research organizations (CROs) provide expertise across the scRNA-Seq workflow, including sample prep and experimental execution, enabling pharmaceutical and biotech clients to perform single-cell analysis at greater scale, efficiency, and reproducibility.
What You'll Learn:
Advantages of single-cell technology versus traditional bulk sequencing methods
Recent examples wherein single-cell analysis has provided crucial insights into drug development processes
Ideal sample types for single-cell and single-nuclei workflows
Benefits of engaging CROs for scRNA-Seq on clinical samples
About the Webinar Presenters

Bhagyashree Birla, Ph.D.
Technical Application Scientist
Azenta Life Sciences
Dr. Birla completed her Ph.D. from Iowa State University in 2017 with a thesis focus on next generation sequencing technologies. She has since worked at multiple life science organizations as an application scientist supporting various genomics products and services and joined Azenta Life Sciences as a technical application scientist in November 2020. In this role, she provides technical consultations for Azenta customers, helping design their next generation sequencing projects and making scientific recommendations to set them up for success.

Dina Finan, Ph.D.
Product Manager
10x Genomics
Dr. Finan completed her Ph.D. in biochemistry from Stanford University School of Medicine with a focus on molecular motor proteins and their role in embryonic development. After graduating, she worked in industrial biotechnology, engineering stable enzymes. Discovering her passion for building better tools to accelerate the pace of scientific research, she joined 10x Genomics as a product manager where she manages part of the ever-expanding single-cell product portfolio.