New Synthetic RNA Oligos by Azenta Life Sciences
To meet the ever-changing needs of the molecular biologist, we've recently expanded our oligo synthesis service to include synthetic RNA oligos. You can now order high-quality DNA/RNA oligos with various modifications, purifications, and synthesis scales.
With a choice of over 200 chemical modifications, our oligo synthesis service provides the high-quality results you expect from Azenta with the breadth of oligo synthesis expertise you need for your experiments.
RNA Base Options

2'-OMe-RNA

2'-O-MOE RNA

2'-F-RNA

Selected Modification Options

5' FAM

5' CY5

2' OMerU

5' Biotin

5' CY3

2' OMerC

5' Amine

3' BHQ1

2' OMerG

5' Phosphate

3' BHQ2

2' OMerA

5' Thiol

Spacer C3/9/18

2' Fluoro Du

5' Cholesterol

dSpacer

2' Fluoro dC

5' TAMRA

Phosphorothioate

…..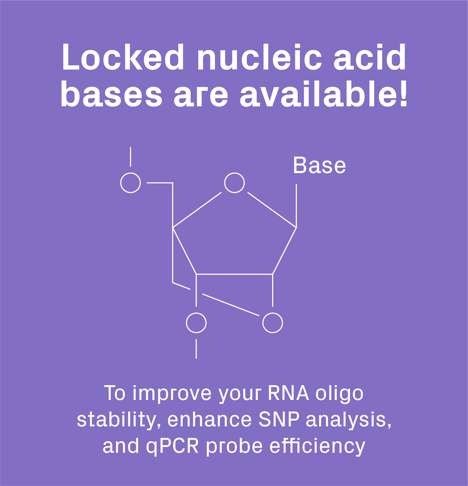 For RNA oligos >80 bases and additional modifications, please contact Technical Support at DNASeq@azenta.com for further details.
Please contact our Technical Support team with any questions
(877) 436-3949 ext. 2 | DNASeq@azenta.com
*Terms and Conditions: Promotion is only valid for new customers of Azenta's standalone oligo-flex synthesis services. Discount applies to list price only. Promotion cannot be combined with any other offers or discounts, including Azenta Referral Rewards, or discounted pricing contracts. Promotional terms are subject to change at any time without notice. Other restriction may apply.