SLAS 2023 International Conference & Exhibition
San Diego Convention Center
Exhibit booth #710
Join us at SLAS 2023 to discover the latest sample management innovations designed to help you accelerate discovery, development, and delivery of therapeutics.
Stop by our booth to see:
New launches across our range of Automated Sample Storage, Consumables and Instruments, and Informatics solutions, including the new Cryo Store Pico™ Automated Sample Storage Solution
Live demonstrations presenting innovative instruments and consumables for lab automation, including secure sealing and low binding plates for sensitive applications like NGS sample prep
Expert speaker presentations from acoustic technology to cryogenic storage to offer you an automation advantage
Azenta offers enterprise-wide sample exploration and management solutions. Our capabilities include: Multiomics and Analytical Services, Consumables & Instruments, Sample Sourcing, Data & Informatics Storage, Automation & Logistics Consultative Services.
Schedule a meeting
Let us know if you'd like to schedule a time to chat about your needs, or see a product demo.
INTRODUCING THE LATEST IN CRYO AUTOMATION
Meet the Azenta Cryo Store Pico
Cryogenic Automation That Fits Anywhere
Automated cryogenic storage is the wave of the future – and the surest way to ensure you're keeping your samples (and staff) safe while working more efficiently. Automation reduces the risk of samples being repeatedly exposed to ambient temperatures, and helps you keep accurate chain-of-custody records. But current R&D (and clinical) spaces don't always have room for the type of equipment that makes automation happen.
That's all changing with the new Azenta Cryo Store Pico™ – a space-efficient automated cryogenic storage system that offers increased sample protection, integrity, and traceability along with labware flexibility. Keep your most precious samples safe.
At under 8 feet high, the Cryo Store Pico™ fits within standard elevators, through standard 32-inch doors, and in standard height rooms. No on-site construction or modifications are required​ to get the Cryo Store Pico™ operational in your space. The vending machine-like profile means it fits neatly into any public-facing space and puts sample access quickly (and securely) in the hands of staff.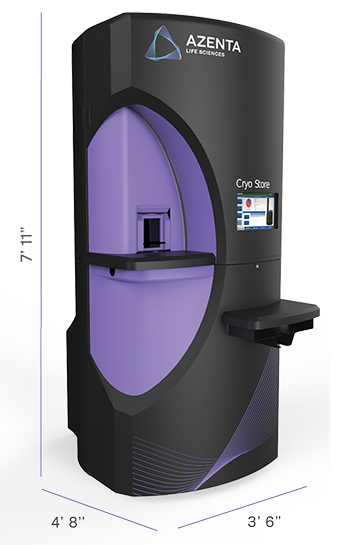 FEATURED SPEAKERS AND PRESENTATIONS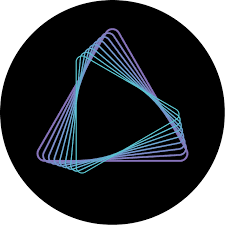 Panel Discussion
Lunchtime Workshop, Room 1A
Monday, February 27, 2023, 12-1 pm
Considerations and Challenges in Sample Storage and Automation
This lunchtime session will include a dynamic presentation about the latest innovations in automated sample storage and cryopreservation followed by a panel discussion with Azenta experts and other industry leaders who will answer questions about best practices in sample management and biosample integrity. Here's your chance to ask your burning questions about keeping your samples cool!
From the effects of the freeze-thaw cycle to transient warming to cold chain management, you'll gain insights about the most effective methods used in cryopreservation and sample management.
The opening discussion on automation will be led by Erica Waller, Azenta Product Manager for Cryo Freezers Product Development, followed by 30 minutes of panel Q&A. A box lunch will be provided.
Panel members include:
Erica Waller, Product Manager, Cryo & Stores Management, Azenta
Kathi Shea, VP of Repository and Innovation, Azenta
Sue Holland-Crimmin, Ph.D., Scientific Advisor and SLAS Board of Directors
Marybeth Burton, Executive Director, Discovery Sample Management at Merck
Dean Montano, Senior Product Manager, Cryo & Stores Management, Azenta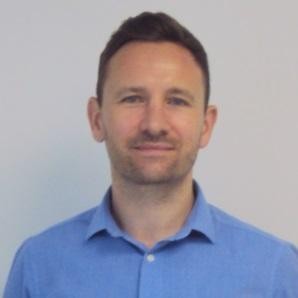 Exhibitor Tutorial Participant
Dean Montano, Senior Product Manager, Azenta
Tuesday, February 28, 2023
2-3 PM, Room 16B
Dark Lab: autonomous mobile robotics in pharmaceutical research
This Titian Software tutorial and presentation featuring Matt Boeckler, AstraZeneca U.S., and representatives from Titian, Beckman Coulter, Biosero, and Azenta will take place at the San Diego Convention Center in Room 16B.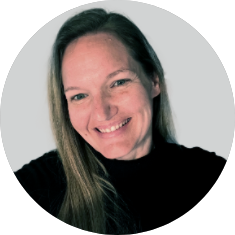 Podium Presentation
Andrea O'Hara, NGS Technical Specialist, Azenta
Wednesday, March 1, 2023
10:30 AM - 11:00 AM
Harnessing the Power of
Multiomics
from a Single Sample with
​
Advanced Automation for Sample Handling and Processing
​
The omics era has greatly expanded the repertoire of approaches available for researchers and clinicians to unravel the complexity underpinning human health: Next Generation Sequencing (NGS) approaches can characterize genomes, epigenomes, transcriptomes and proteomes. Advanced DNA barcoding and automated microfluidics can take this to the next level, enabling multiomic characterization of single cells. This 25-minute presentation details a workflow that uses automated sample handling and processing of primary blood to do a multiomic analysis of a single draw of blood, covering genomics, epigenomics, transcriptomics, and proteomics. Track: Omics, Session: New Technologies in Omics, Abstract #: 1343123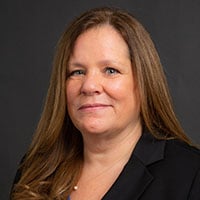 Short Course
Kathi Shea, VP Repository and Innovation, Azenta
Sunday, Feb. 26, 2023
8:30 a.m. - 4:30 p.m.
Sample Management: Best Practice, Trends and Challenges
This course will provide current standards considered best practice in the discipline of sample management. It will focus on the traditional aspects of compound management (including how to maintain and measure quality of compounds). Recognizing the importance of biologics in drug discovery, the course will also cover biological reagents and best practice in biobanking and clinical sample management. Course topics include: Small Molecule, Biological and Clinical Sample Management, Cold-chain Management, Quality Management, Technology, Lean Six Sigma, and Cold Chain.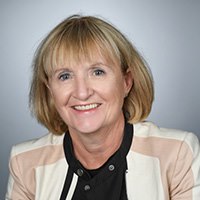 Co-Presenter
Sue Holland-Crimmin, Ph.D., Scientific Advisor, SLAS Board of Directors
Sunday, Feb. 26, 2023
8:30 a.m. - 4:30 p.m.
Sample Management: Best Practice, Trends and Challenges
New Innovations in Automated Instrumentation
Stop by our booth to be the first to see these exciting new products
IMPROVE PRODUCTIVITY WITH AUTOMATED SEPTUM DECAPPING/CAPPPING
IntelliXcap

TM
Automated Septum Cap Decapper/Recapper
This high-speed whole rack tube decapper and capper automatically removes, recaps, or disposes of septum caps from a full 96-format SBS rack of sample storage tubes. Using the system for secure storage tube sealing eliminates the need for manual intervention and preserves sample integrity for use within high throughput environments such as in biobanking, compound libraries, and other storage applications.
Fully automated decapping and capping of septum seals with 96 format tubes

Additional capping module available for uncapped tubes from septum seal cap mats

No requirement for compressed air for flexible use within the lab

Compatibility with a wide range of 96 format tubes and septum seals from multiple manufacturers

Can be used as standalone

or integrated into automated systems with external robotics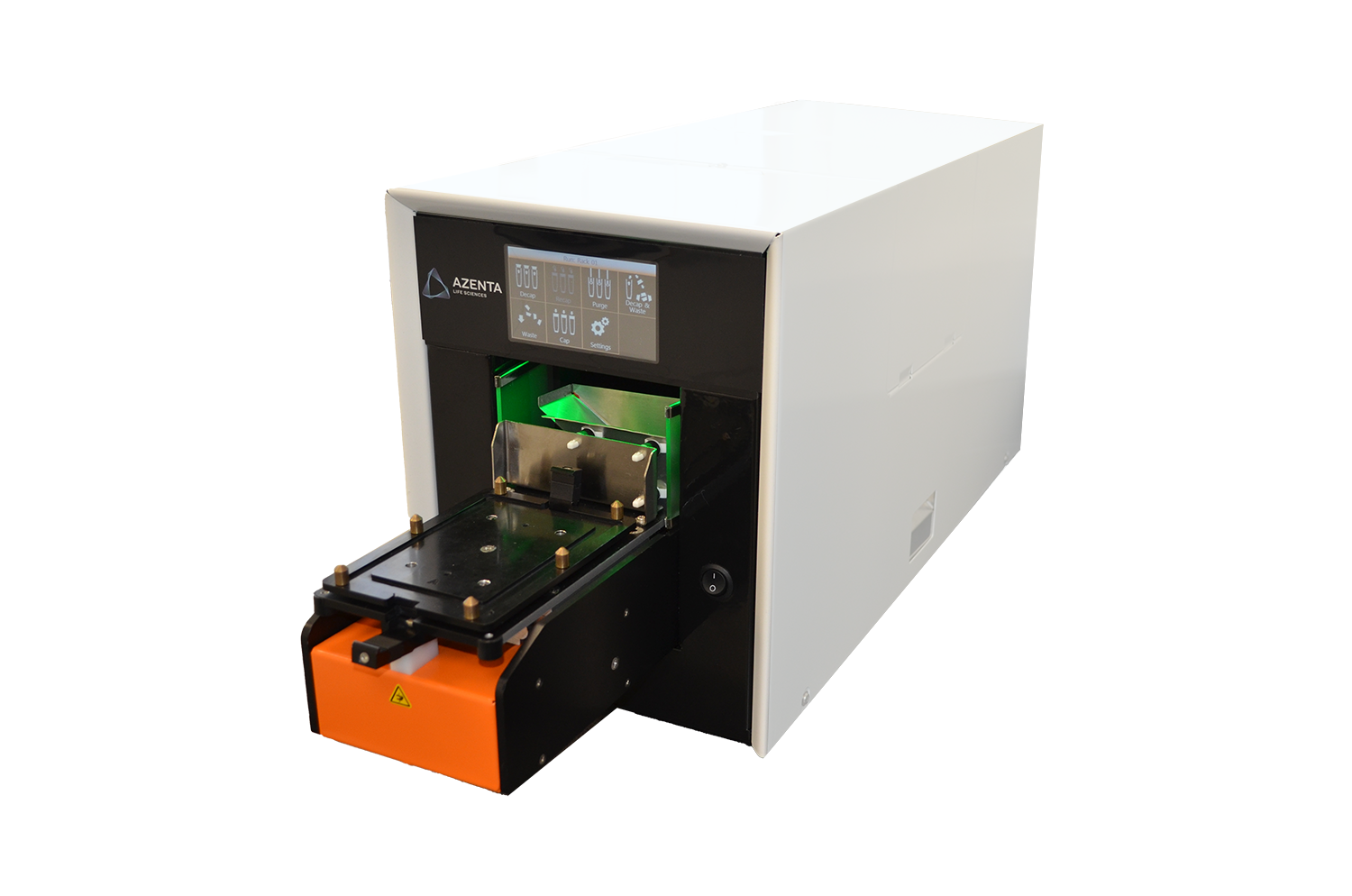 AN AUTOMATED SOLUTION FOR THE GOLD STANDARD OF SEALING
Automated Individual Access Roll Heat Sealer
This automated roll heat sealer can seal individual wells or tubes, enabling researchers to leverage the benefits of the Azenta Individual Access plate and seal range whilst maintaining the gold standard heat sealing provided by the Automated Roll Heat Sealer.
Individual sealing of plate wells or tubes, allowing for selection and removal of individual tubes from the plate

No requirement for compressed air for flexible use within the lab

Compatibility with a wide range of plates and seals

A flexible solution with the ability to seal custom shapes with custom seals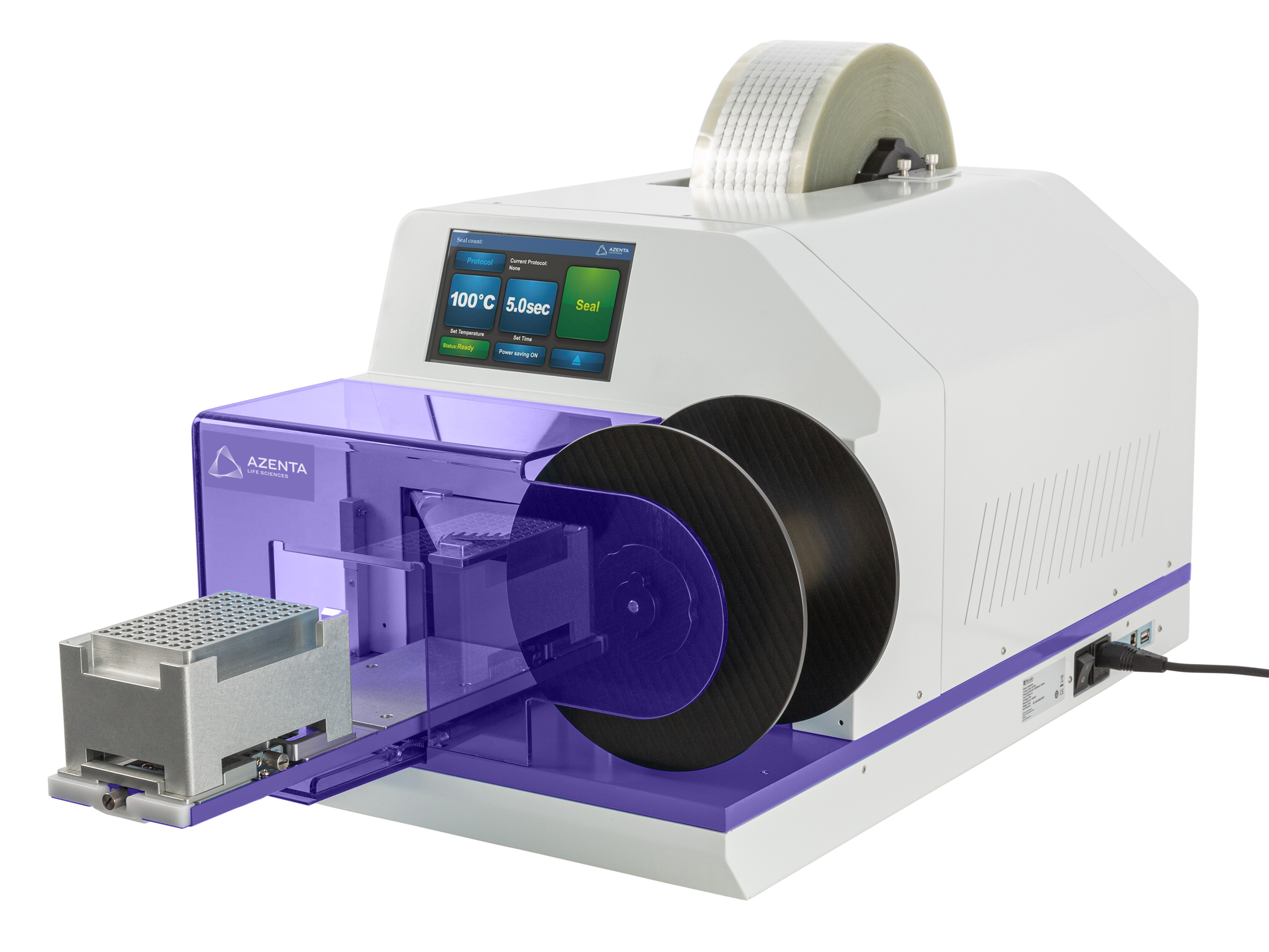 Enter the Tube Lottery
Win an Apple watch
1. Stop by our booth to get an Azenta cryo tube
2. Scan the tube to enter the tube lottery
3. Earn extra prizes by placing your tube in the new Cryo Store PicoTM
Drawings will be held at 4 pm Monday and Tuesday.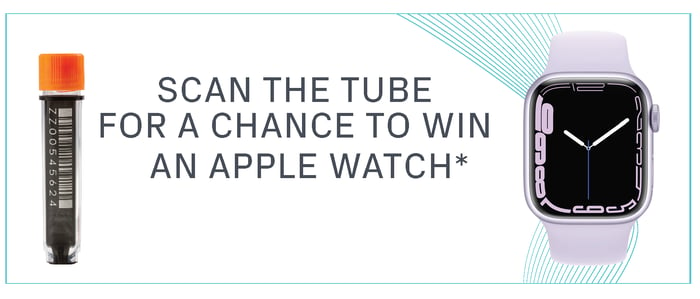 *Terms and conditions apply
*Terms and conditions: This raffle is sponsored by Azenta Life Sciences, located at 200 Summit Avenue, 6th Floor, Burlington, MA 01803, USA. The raffle will be conducted from February 25- March 1, 2023. Winners will be picked by random drawing and do not need to be present to win. Winners must be 18 years or older. Prizes will be shipped to the winners or can be collected at the booth. Limit one prize per winner. Drawings will occur on Monday, Feb. 27, and Tuesday, Feb. 28, 2023 at 4:00 pm PST, in the Azenta Booth #710 at SLAS San Diego.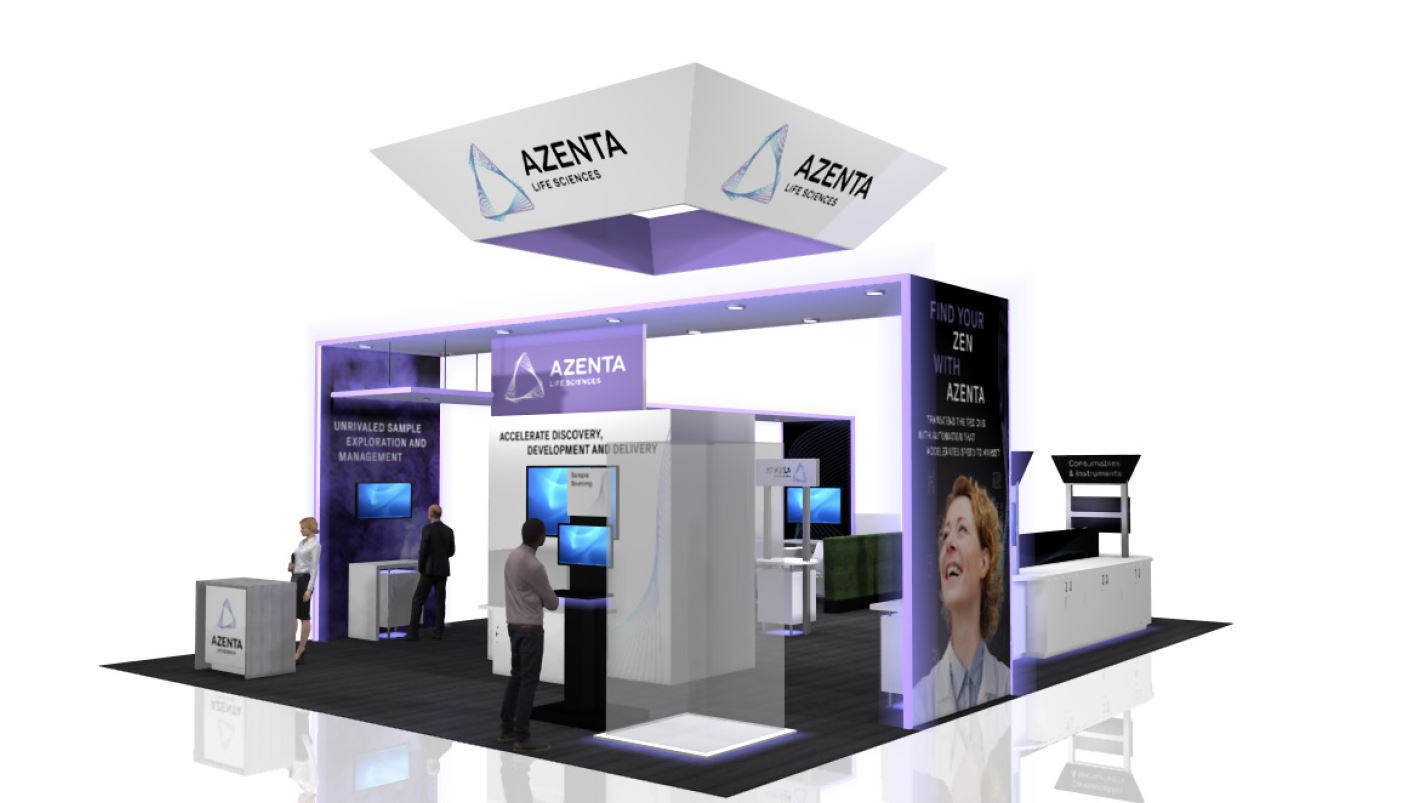 GET A DEMO OR SCHEDULE A MEETING
Azenta Offerings
Stop by booth #710 to get a demo or learn more about:
Cryo Store Pico Introduction
Consumables and Instruments
Sample Sourcing Services
Sample Analysis & Multiomics

Sample Management and Automation
Data & Informatics
Accelerate Discovery, Development, and Delivery
Azenta Life Sciences delivers unrivaled sample exploration and management that helps life science companies accelerate discovery, development, and delivery.
Azenta provides unrivaled sample exploration and management solutions to help our customers accelerate discovery, development and delivery.
Never Miss an Update
Get the latest event updates, industry trends, and best practices straight to your inbox to help bring your research to market faster.